Waaay back when the show started, I mentioned that there was a fence that I passed on my way home that had the symbol of Hymn of One that we all know and...uh, hate. Well, after procrastinating a fair amount, I finally decided to walk over and take some pictures, so you guys could see it too! It was kind of weird taking pictures of the fence (hopefully the family wasn't watching from their window), but I hope you enjoy it!
-Lexi
The fence in all its glory.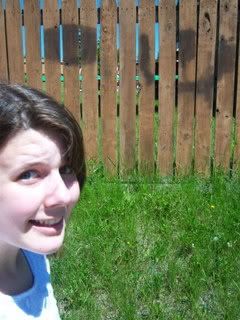 I was bit scared getting close to a symbol of a cultish society.




But I soon changed my mind. ;)